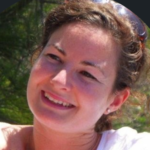 Emily Berliet
Emily Berliet is the Regional Director of EACC Rhone Alps, Auvergne since November 2021. Emily is French/American, bilingual and bi-cutural. She spent half her life between the US and France. Born in New York, raised in Connecticut (CT, USA) and in Lyon, France.
Emily holds an MBA from EMLYON (Lyon, France) and graduated from the University of Vermont (Burlington, VT USA) with a bachelor's degree in Economics.
She has over 10 years of Corporate Social Responsibility experience and 5 years of Human Resources experience.
Emily founded in 2012 a CSR and Sustainability advisory firm (CSR Alliance). She specializes in social innovation and in ESG (Environment, Social and Governance) in private equity, financial institutions and in the biotech pharmaceutical industry. She has excellent knowledge and a strong background of the UNPRI (Principles for Responsible Investment), GRI's (Global Reporting Initiatives) and many other CSR related frameworks and methodology.
Previously, she worked in Human Resources at Hermès International (a French Luxury Retail Company) in New York City (USA) and for a biotech pharmaceutical company Sirtris Pharmaceutical (a GlaxoSmithKlein company) in Cambridge, MA (USA). 
Performed all functions related to talent acquisition, performance management, training, employee orientation, HRIS database administration, personnel file management, company events, administered accounts payable and supported purchasing. Paid diligent attention to employee needs. In addition, she's a strong advocate for social justice.