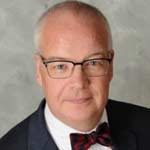 Todd P. Schwartz
Todd Schwartz retired from the Foreign Service of the United States in September 2015 with the personal rank of Counselor (roughly equivalent to Brigadier General).
Mr. Schwartz joined the State Department as a Foreign Service Officer in 1987. His overseas postings included Germany, Saudi Arabia, Tunisia, Qatar, the Philippines, Kuwait (Counselor for Economic Affairs), Canada (Principal Officer in Winnipeg, Manitoba), and Iraq (Counselor for Economic Affairs). His assignments in Washington have included tours as Director for the Office of Iraq Economic Affairs, Director of the Office of Iran Affairs, and as an assessor with the Board of Examiners for the Foreign Service. He received numerous awards throughout his career, including three Superior Honor Awards, six Meritorious Honor Awards, and the Secretary's Career Achievement Award.
Mr. Schwartz earned a Bachelor of Science degree in Business Economics at the Richard T. Farmer School of Business at Miami University in Oxford, Ohio. A father of four, he is married to the former Nancy Dye Sunderland of Dayton, Ohio. Nancy and Todd now reside in the Mount Washington area of Cincinnati.