Conferences: educational seminars, roundtables, panels, deep-dive workshops on transatlantic topics such as business environments, legal, human resources, geopolitical, regulatory issues.
European American Press Club: press conferences with distinguished guest speakers from political and economic realms.
Transatlantic webinars: panel debates with experts confronting perspective from both sides of the Atlantic.
Executive Events: formats enabling candid, informal exchange of ideas and information in small groups with political and economic leaders.
Breakfast with Amy Schedlbauer, Minister Counselor for Economic Affairs, United
...
**Réservé aux membres de l'EAPC & l'EACC et invités** Pour plus
...
No event found!
Thème: Le Risque Lafarge Les membres du comité fiscal analysent les
...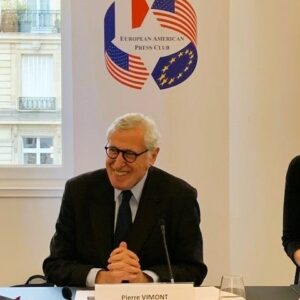 **Réservé aux membres de l'EAPC & l'EACC et invités** Pour plus
...
No event found!
13 December, Reception with Her Excellency Denise Campbell Bauer, United States Ambassador to France on "Atmosphere and Outcomes on Macron's First State Visit to the Biden Administration"
6 October, Press Club with Her Excellency Yaël German, Israeli Ambassador to France on "Ongoing Developments in the Middle East"
4 October, The New Age of EU Competition Law & Transatlantic Business with Olivier Guersent, Director-General of the Directorate General for Competition at the European Commission
27 September, Hearing at the Sénat and exchange with French Senators on differences between cultural, economic and business approaches of French, European and American "tech" companies
16 June, Conference by Augustin Landier, economist specialised in the behavioural economics of individuals on his latest book, "Le Prix de nos Valeurs".
10 March, Press Club with Bernard Guetta, member of the European Parliament, and member of the delegation to the EU-Russia Parliamentary Cooperation Committee of the European Parliament: "Les leçons de la crise Ukrainienne"
10 February, Petit déjeuner / échange "The strategic priorities of the United States in France" with Mark Toner, Minister Counselor for Public Affairs at the U.S. Embassy & Amy Schedlbauer, Minister Counselor for Economic Affairs at the U.S. Embassy
18 October, Round table exchange with Patrick Artus, Chief Economist at Natixis, on his book, "La Dernière chance du Capitalisme"
28 September, Press Club with Benjamin Haddad, International Relations Researcher and European Director of the Atlantic Council: "La présidence de Biden, le retrait de l'Afghanistan : état des forces sur les relations transatlantiques et le rôle des Etats-Unis dans le monde"
4 May, Transatlantic journalist debate with Margaret Talev, Axios/CNN News, Washington, D.C., Dr. Stefan Grobe, Euronews, Brussels, Ben Barnier, France Télévisions, Philip Turle, France 24: "The First 100 Days of the Biden Administration and EU/US Relations"

18 March, Press Club webinar with Ambassador Gérard Araud: "The Biden Administration and the Future of Transatlantic Relations"
14 October
, lunch and Chatham House discussion at the residence of Makram Mustafa Queisi – Jordanian Ambassador to France: "Ongoing developments in the Middle East"
30 September
, Press Club webinar with Celia Belin, Senior Fellow Brookings: « Présidentielle américaine, J-35 : état des forces et scénarios au lendemain du premier débat entre Trump et Biden »
30 June,  webinar with Phil Hogan, EU Trade Commissioner: "The EU Trade Policy & Transatlantic Leadership in the Post-COVID World"
9 June,  webinar with economist Nicolas Bouzou: « Et après? Risques et opportunités pour les entreprises après le choc du Covid-19 »
4 June, transatlantic webinar with Pascal Lamy, Former Director-General, World Trade Organization (WTO), Lucinda Creighton, CEO, Vulcan Consulting – and EU Trade Expert, and Doug Lippoldt, Chief Trade Economist: "Transatlantic Trade Update: Trade Post-Covid19 – A Look Ahead"
30 April, Board meeting per videoconference with the participation of Pierre Moscovici, President of the French Court of Auditors, European Commissioner for Economy and French Minister of the Economy and Finance: « La reconstruction de l'Europe post Covid-19
3 March, Press Club conference with Olivier Guersent, General Director of the Competition Directorate General of the European Commission: « L'économie mondiale en transition – défis pour la politique de concurrence de l'UE »
19 February, Press Club conference with Salomé Zourabichvili, President of Georgia
21 January, Press Club conference with Margrethe Vestager, European Commissioner for Competition
17 September, Conference with Bernard Cazeneuve, Partner, August Debouzy, President of the Club es Jurists and former Prime Minister of France: « Loi Sapin II et autres initiatives européennes relatives à la compliance: évolutions et perspectives »
2 September, Press Club conference with His Excellency Philippe Etienne – Ambassador of France to the United States following his role as main Sherpa at the G7 in Biarritz: « Les relations transatlantiques vues de Paris »