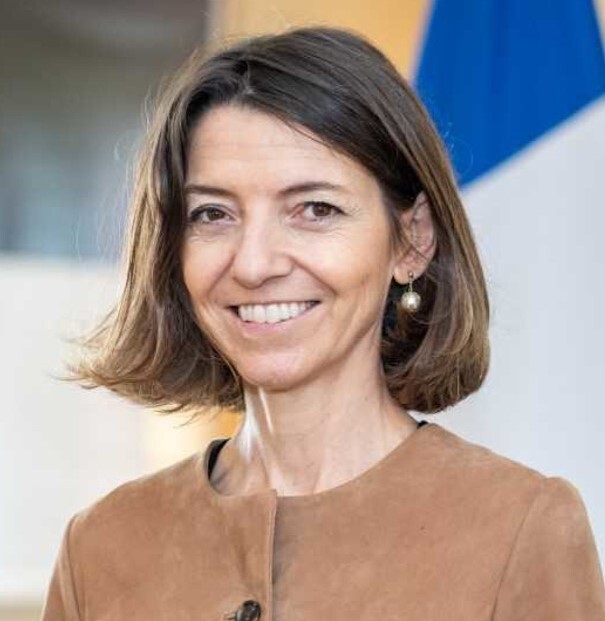 Echange – Petit-déjeuner avec Laurence Boone – Secrétaire d'État chargée de l'Europe
 Discussion des questions autour de la relation transatlantique à une époque de défis mondiaux
Accueil à partir de 8:45 | Échange à 9:00
RSVP : [email protected]
Speaker
Laurence Boone

Secrétaire d'État chargée de l'Europe

Laurence Boone est économiste, titulaire d'un doctorat d'économétrie appliquée de la London Business School (Royaume-Uni), d'un master d'économétrie et de modélisation macroéconomique de l'université de Reading (Royaume-Uni), d'un master d'économie de l'université Paris X Nanterre (France), ainsi que d'un diplôme d'études approfondies (DEA) d'analyse quantitative et de modélisation de l'université Paris X Nanterre (France).
Auteure de nombreux articles et ouvrages d'économie, Laurence Boone a enseigné à l'École Polytechnique, à l'ENSAE (École
nationale de la statistique et de l'administration économique), à l'École normale supérieure et à la Paris School of International Affairs de Sciences Po Paris.
Elle a travaillé dans des centres de recherche en économie (Centre d'études prospectives et d'informations internationales, OCDE) et en tant qu'économiste en cheffe de Barclays Capital France de 2004 à 2011 et cheffe économiste et directrice générale de Bank of America Merrill Lynch Global Research de 2011 à 2014.
En 2014, elle est appelée par le président de la République, aux fonctions de Sherpa et conseillère spéciale pour les affaires économiques et financières multilatérales et européennes.
En 2016, elle est nommée cheffe économiste du Groupe AXA.
En 2018, elle devient cheffe économiste de l'Organisation de Coopération et de Développement Économiques (OCDE). Elle dirige les travaux du Département des affaires économiques de l'OCDE, représente l'OCDE pour les questions économiques et financières et participe aux côtés du Secrétaire général aux réunions du Comité monétaire et financier international ainsi qu'aux réunions du G7 et du G20.
En janvier 2022, Laurence Boone devient, en plus de ses responsabilités de cheffe économiste, Secrétaire générale adjointe de l'OCDE. Elle assume la responsabilité générale des travaux d'analyse et d'élaboration des politiques publiques : l'emploi, le travail et les affaires sociales ainsi que l'éducation, les compétences et le bien-être, l'inclusion, la soutenabilité et l'égalité des chances. Elle dirige aussi les travaux du Forum inclusif sur les approches d'atténuation du carbone.
Laurence Boone est nommée secrétaire d'État chargée de l'Europe, le 4 juillet 2022.