Transatlantic Tech Working Group Launch
Making the jump – from France to Silicon Valley!
Franchir le pas – de la France à la Silicon Valley !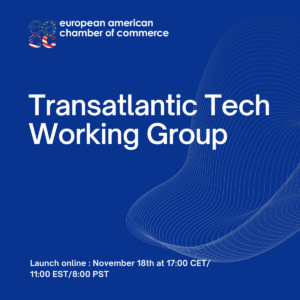 Join the launch of the EACC Transatlantic Tech Working group, virtually on Thursday, November 18th at 17:00 CET/11:00 EST/8:00 PST
This group brings together French and EU tech and other company leaders to help expand their presence in the United States. Members with current projects confer with exceptional colleagues and industry experts who have successfully made the jump.
To learn more and participate in the kick-off meeting, contact Katherine Prewitt (prewitt@eaccfrance.eu), Renaud Roquebert and Francois Laugier.
Meetings will take place in a mix of French and English, according to the topic or special guest (with a likely predominance of French).