English / Anglais




French / Français
« En tant que puissance politique, l'Europe doit pouvoir fournir des solutions en termes de cloud, sinon, vos données seront stockées dans un espace qui ne relève pas de son droit – ce qui est la situation actuelle. Donc, quand on parle de sujets aussi concrets que cela, on parle en fait de politique et du droit des citoyens. » déclarait le Président Français – Entretien avec le Président français Emmanuel Macron (
legrandcontinent.eu
) Le fondateur d'Alibaba a-t-il été rappelé à l'ordre par le gouvernement chinois parce que ce dernier voulait reprendre le pouvoir sur les données de ses industries numériques ? Le Cloud Act américain démultiplie-t-il au-delà du raisonnable les possibilités de procédures extraterritoriales d'accès aux données ? Madame Samman a présenté l'état des lieux des actions mises en place par l'Union européenne sur la question de la souveraineté des données au comité au comité 
Intellectual Property & Innovation
de l'EACC le 4 février. Sa présentation « Data / Souveraineté : Regards croisés Etats-Unis / Europe » a été suivi par un échange avec les participants et pour redonner une perspective politique européenne à un sujet a priori technique. Car la question de savoir si l'Union européenne parviendra à rassembler ses Etats membres dans une action commune concrète visant à renforcer sa souveraineté est clé. Cette volonté a été aiguisée par la présidence Trump, la crise du Covid-19 et en réaction au Brexit, mais ira-t-elle au bout ? Face à une stratégie américaine de longue date de protection des secteurs et entreprises stratégiques, et un contrôle fort de la Chine sur ses propres actifs stratégiques, la voie européenne, pour hypothétique qu'elle soit, mérite tout de même d'être suivie.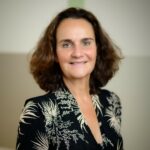 Thaima Samman
Avocate-associée inscrite aux barreaux de Paris et Bruxelles, fondatrice du
Cabinet SAMMAN
et en charge de l'activité numérique et de la coordination européenne de
Fipra international
, Thaima apporte de nombreuses années d'expérience et une solide connaissance juridique et des affaires publiques acquises dans divers postes de direction et institutionnels. Après plusieurs années dans le cabinet d'avocats d'affaires August & Debouzy, Thaima a dirigé le département affaires publiques, règlementaires et communication de Philip Morris France avant de rejoindre Microsoft, où elle dirige le département juridique et affaires publiques de Microsoft France. Elle est ensuite promue Associate General Counsel Corporate Affairs & CSR Europe-Moyen-Orient-Afrique. Auparavant, Thaima a fait partie de l'équipe parlementaire de Claude Bartolone, ancien Ministre et ancien Président de l'Assemblée Nationale. Thaima est également une des fondatrices du
European Network for Women in Leadership
.
"As a political power, Europe must be able to provide solutions in terms of the cloud, otherwise your data will be stored in a space that is not under its right – which is the current situation. So, when we talk about subjects as concrete as that, we are in fact talking about politics and the rights of citizens. declared the French President – Interview with French President Emmanuel Macron (legrandcontinent.eu) was the founder of Alibaba called to order by the Chinese government because the latter wanted to regain power over the data of its digital industries? Does the American Cloud Act multiply beyond reason the possibilities of extraterritorial procedures for accessing data? Ms. Samman presented the status of the actions implemented by the European Union on the issue of data sovereignty to the Committee at the Intellectual Property & Innovation Committee of the EACC on February 4. His presentation "Data / Sovereignty: Crossed perspectives United States / Europe" was followed by an exchange with the participants and to give a European political perspective to a subject that was technical in principle. Because the question of knowing whether the European Union will succeed in bringing together its Member States in a concrete common action aimed at strengthening its sovereignty is key. This desire has been sharpened by the Trump presidency, the Covid-19 crisis and in reaction to Brexit, but will it go all the way? Faced with a long-standing American strategy of protecting strategic sectors and companies, and China's strong control over its own strategic assets, the European path, hypothetical as it may be, still deserves to be followed.
Thaima Samman
Lawyer-partner registered with the Paris and Brussels bars, founder of Cabinet SAMMAN and in charge of the digital activity and the European coordination of Fipra international, Thaima brings many years of experience and a solid legal and public affairs knowledge acquired in various managerial and institutional positions. After several years in the business law firm August & Debouzy, Thaima headed the public affairs, regulatory and communication department of Philip Morris France before joining Microsoft, where she heads the legal and public affairs department of Microsoft France. She was then promoted to Associate General Counsel Corporate Affairs & CSR Europe-Middle East-Africa. Previously, Thaima was part of the parliamentary team of Claude Bartolone, former Minister and former President of the National Assembly. Thaima is also one of the founders of the European Network for Women in Leadership.